MPM700
The MPM700 is an Android based Patient Monitor with a 7" touch screen display. It has a built-in web server that makes it an IoT capable patient monitor that can be accessed by a web browser from anywhere.
EKG

(5 leads)

Blood Pressure

Pulse/SPO2

Temperature

Weight

(Bluetooth connected)

Blood Glucose Reader

Built in 110-200v power supply

USB input jack for any USB device 

USB output data jack.

Electronic Patient Record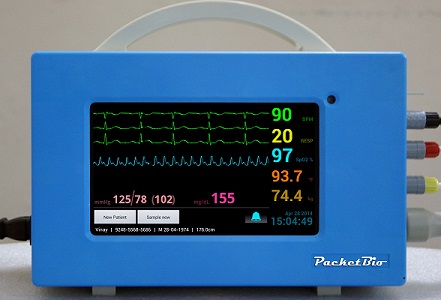 Price
USD 699.00 (includes 1 set of adult size accessories)
Specifications
ECG
measurement range: ±0.5mVp ~ ±5mVp

Heart Rate display range: 20bpm ~ 300bpm

Heart Rate display accuracy: ±2% or ±2bpm, whichever is greater.

Alarm delay time: <=12s

Input noise level for ECG amplifier: <=30uVp-p

Input impedance: >= 5M ohm (single ended)

CMRR (common mode rejection ratio): >=89dB

ECG bandwidth: 0.5~40Hz(monitoring mode), 0.05~75Hz(diagnostic mode)
SPO2
SpO2 measuring range: 35% ~ 99%
SpO2 measuring accuracy: Arms <=3% for SpO2 range from 70% to 100%
Pulse Rate measurement: 30~240bpm with 2% or ±2bpm accuracy
Update rate: 8 pulse beats
Low perfusion performance: Accuracy of SpO2 & PR still meets the declared
specification while the pulse amplitude modulation ratio is as low as 0.4%.
NIBP
Pneumatic pressure measurement: 0~300mmHg with ±3mmHg accuracy
Air leakage: <2mmHg/minute @ 300mmHg with 500cc cuff volume
Systolic pressure range: 40~270mmHg for adult, 40~200mmHg for pediatric
Diastolic pressure range: 10~210mmHg for adult, 10~150mmHg for pediatric
MAP range: 20~230mmHg for adult, 20~165mmHg for pediatric
BP accuracy: Mean error <= ±5mmHg, Standard deviation <= 8mmHg.
Pulse Rate measurement: 40~240bpm with 2% or ±2bpm accuracy
Blood pressure measuring time:< 30 sec. for typical adult (80/120mmHg, 75bpm) at manual or auto mode;
Time interval selection at auto mode: 1, 2, 3, 4, 5, 10, 15, 30, 60, 90 minutes.
Over pressure protection with limit of 320±10mmHg by dual transducers
Respiration
Respiratory Rate measurement range: 0~120rpm
Respiratory Rate measurement accuracy: ±10%
Temperature
Temperature measurement range: 25.0~45.0 °C
Temperature measurement accuracy: ±0.2 °C
response time: <=30 sec.
Blood Sugar
measurement range from 20-600 ml/dl
0.7μL Blood sample requirement
used strip detection
response time < 10secs
Body Weight
measurement range from 5kg-180kg
BMI Caliculations
Measurement in Lbs and Kgs.
Bluetooth enabled
Communication Support:
3G​/GPRS packet data
Wifi (802.11 a/b/g)
USB connectivity to PC/Laptop
Display and Control Device:
Android Tablet
Laptop/PC
Mobile Phone
---